Eco Hotel Bonapace
The First hotel to be certified by KlimaHaus Hotel Gold, Arca Platinum and Passivhaus Institut.

When we decided to design our hotel, the construction of a completely ecological building with Zero impact seemed the most natural decision for us to make.
To be ECO does not only mean constructing a building that is ecologically certified: it is a philosophy that implies a sustainable approach that is not invasive, neither towards the surrounding territory nor to human living conditions. There are many elements, that when combined using the correct method, make it possible to maintain the environment intact whilst improving the quality of living.

Some examples: for our breakfast menu we have chosen, as partners, only local growers and farmers who have adhered to the organic philosophy, thus offering only local produce; our electrical energy comes only from renewable sources; the technology with which the hotel was built is so innovative that it offers solutions that are a real challenge, some of which are being used for the first time in accommodation facilities of this type; all heating and cooling is produced using a Geothermal heat pump system with water/water exchange.

These are only a few of the small pieces which, when used together, help to make our hotel the 1st Eco Hotel, not only on Lake Garda but in the world!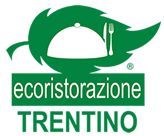 WHY CHOSE US?
Because we are in a very silent part of town but two minutes from the lake;
Because we offer our clients a protected bike deposit;
Because in our whirlpool it is easy to relax in front of a stunning viewato.
What does it mean to be "Eco"?
What does it mean to be "Eco"?
It means not wanting to create a negative impact on the territory (Eco sustainability) regarding the pollution of water, earth or air, whilst, at the same time, maximising levels of comfort for our guests.
Why are we the first Eco Hotel in the world?
Because we are the first people to have had the idea to build a hotel that satisfies all 3 of the principal certifications: Arca Platinum, Passivhaus Institut and KlimaHaus Hotel Gold.
What does complying with these certifications mean?
It means that we have constructed a building that has an extremely high level of energy production with very low levels of emission.
With the help of our partners who designed and constructed the hotel.
The thermal layer of the hotel is highly insulated and without thermal bridges, all external openings are perfected so as to make full use of solar energy in Winter, the thermal shutter system is designed for maximum protection against overheating in summer, the wooden window frames are of the highest energy efficiency with triple glass, low emissivity with double cavities and Argon gas, the joints have no air loss, and, finally, a ventilation system with heat exchange of high efficiency (chilled beams) runs along the distribution space so as to reach all inner areas. The end result is that we have an efficient building cost-wise, that, at the same time gives a high level of living comfort whilst using only a small amount of energy for heating and cooling.
Is it enough only to construct a building for it to be "Eco"? Eco thinking.
The design of a building based on the "Eco" principal is important, but not enough. It is fundamental to base the foundations on an eco sustainable philosophy, in which all actions, both inside and outside the hotel, compliment each other. In order to succeed in our project we have been very careful in our choice of partners with whom we have worked. The designers and builders are not the only contributors to the success of this initiative... Not by chance:
All necessary electrical energy is produced exclusively from renewable sources.
All washing machines and dishwashers are run using hot water produced by our solar panels.
Each tap is fitted with an aerated spray flow to save water and energy.
Laundering is done at a low temperature using eco-sustainable detergents
All ingredients for breakfast foods are from local organic and fair-trade sources.
All our complimentary toiletries are produced using organic ingredients.
All paper used in our hotel is from recycled sources.
Our furniture is made from oak and varnished used only water-based varnishes.
Our staff have been chosen for their commitment to the "Eco thinking" ideal, and have been trained to ensure constant efficiency in this way of thinking.
We are working on a solution which will cancel the production of CO2 produced by our clients whilst travelling from their homes to our hotel (this will be further explained when we have the pleasure of welcoming you).
We have taken into consideration all aspects of the daily running of our hotel and made them eco-sustainable.
On your Departure day, as check-out is before 10.30am, you may leave your luggage in our deposit so as to enjoy your last day to the fullest –when you return you can have a refreshing shower before you leave.  Animals are not permitted inside our bedrooms or any public rooms, and smoking is not permitted.
BIODEGRADABLE PRODUCTS FOR CLEANING
SHOWERS AND CHANGING ROOM
ORGANIC AND LOCAL PRODUCTS FOR SALE
WASHING SERVICE UPON REQUEST
PAYMENT WITH POS, VISA OR MASTERCARD
BIODEGRADABLE ACCESSORIES ON SALE
DEFIBRILLATOR INSIDE THE HOTEL